Pfaff Ambition 1.0
57956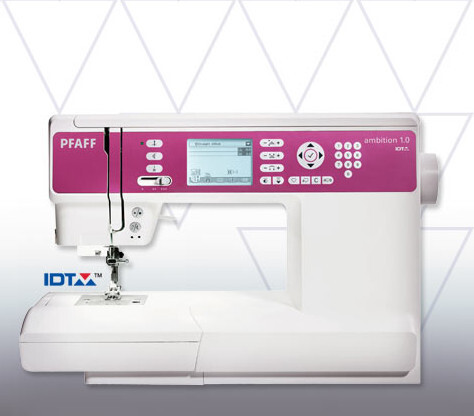 Machine Features:
IDT™ (Integrated Dual Feed) – Absolutely even fabric feed from both the top and bottom. IDT™ is ideal for the quilter and sewer! IDT™ works with any stitch in forward or reverse at any stitch length or width. Built right onto the machine, it can be easily engaged or disengaged as needed. Many Pfaff® accessories and presser feet can be used with IDT™ to ensure even seams with any stitch on any fabric.
Large sewing space – The sewing area to the right of the needle is 200mm, great for large sewing projects.
136 stitches – A wide variety of beautiful 7mm stitches, including utility stitches, buttonholes, decorative stitches, quilt stitches, cross stitches and hemstitches.
Alphabets – Choose from two different font styles: Block and Cyrillic letters.
PFAFF® design – Built to make sewing easy and to achieve the professional results that sewers want.
Large, high resolution screen – You can view your selections, options and stitch information on screen. Also, all stitches are shown in real size.
Start/Stop button – Press the Start button to sew without the foot control.
Speed slider- adjust the speed with the speed slider for full control.
Three LED light sources – Optimized bright lights illuminate your entire sewing area without shadows.
Free-motion sewing – Simply attach the optional free-motion presser foot for easy quilting and free-motion embroidery.
External feed dog drop – Lower the feed dogs for stippling, free-motion embroidery or darning.
Extra presser foot lift – Raises the presser foot to its highest position so that thick fabrics can be placed easily under the presser foot.
Presser foot pressure – Can be adjusted when using specialty techniques or when sewing on light or heavy fabric.
Adjustable Thread tension – The recommended thread tension setting for the selected stitch is displayed on the graphic display.
Needle up/down – Touch a button to set your needle to automatically stop up or down in the fabric for pivoting, appliqué and more.
Immediate tie-off – When selected the machine will tie-off automatically at the end of a seam for a quick and easy finish.
Programmed tie-off with indicator – Choose from one or several tie-off options.
29 needle positions – Perfect for topstitching, quilting, inserting zippers and more.
Twin needle program – Automatically adjusts the stitch width to prevent needle breakage.
Stitch width safety – Limits stitch width to center needle straight stitch while using straight stitch needle plate and/or straight stitch foot to prevent needle breakage.
Elongation – Lengthen satin stitches and entire stitch will be longer but the density remains the same.
Mirror image – Flip the stitch from side to side, and/or end to end, for more creative possibilities.
Sequencing – Combine and save up to 20 stitches and/or letters into one of the four sequence memories.
Save personal stitch – Change the settings of a built-in stitch to your personal liking and save it in one of the four sequence memories.
Languages – Choose from 13 different languages.
Integrated Needle Threader – Makes threading the needle fast and easy.
Stitch plate – Markings to the left and right of needle helps you guide your fabric.
Snap-on/Snap-off presser feet – Changing is easy – no screws or other tools are needed.
Top loaded bobbin – Easy to access.
Permanent Reverse – Your hands are free to guide your fabric.
Electronic needle piercing power – Full piercing power at any speed with total control.
Hard Cover – Protect your sewing machine when transporting it, and keep it dust free.
Two spool pins – For twin needle sewing or specialty sewing.
Accessory tray – With two compartments to use for storing accessories and bobbins.
PRESSER FEET included:
Standard presser foot 0A with IDT™ system
Fancy stitch foot 1A with IDT™ system
Fancy stitch foot 2A
Blindhem foot 3 with IDT™ system

Zipper foot 4 with IDT™ system

One step Buttonhole foot 5B

OTHER ACCESSORIES
Bobbins (5)
Felt pad
Screwdriver for needle plate
Multi-purpose tool
Spool cap, large (2)
Spool cap, small
Seam ripper & brush (as one)
Edge guide
Auxiliary spool pin
Foot control
Power cord
Needles
Hard cover
10 Highland Drive
St. John's, NL, Canada
A1A 3C4